Huntington Bounce House Rentals
Best Bounce House & Party Rental Company on Long Island!
Welcome to Huntington Bounce House Rentals. Huntington's BEST Bounce House & Party Rentals Company on Long island, New York. Party Rentals R Us is your best choice when it comes to rent a bounce house in Huntington, we have the largest and best selection of inflatable games, no party or event is to small or to big for us, we'll be happy to serve you on you next backyard birthday party or you next big corporate event. We will come ready and on time to set up all the equipment at your event. Safety and cleanliest are our priority, we make sure that all our equipment arrives on time, cleaned, disinfected and is installed correctly, our staff is trained on the safe installation and operations of all our Huntington bounce house rentals.
Party Rentals R Us in
Huntington NY
is your number one choice when it comes to party rentals and bounce house rentals, we carry the largest and best selection of inflatable games for kid's parties in Long Island, we have over 70 different inflatable and non-inflatable games to choose from. our selection of games are not only for the little ones, our games are good for teenagers and adults as well. In our Huntington Bounce House Rental inventory we have bounce houses, combos, Obstacle curses, dunk tanks, water slides, tents, tables, chairs, and much more.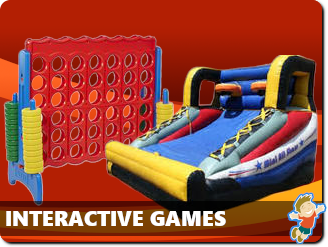 Interactive Games
Interactive game rentals are a great way to add a ton of excitement to your event. These fun, inflatable activities allow your guests to come together in the spirit of fun and friendly competition. They are great for all ages!
View All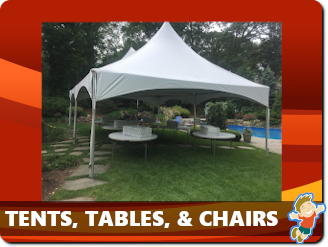 Tents Tables & Chairs
Long Island parties are always special events and Party Rentals R Us has a great selection of tent canopies, table & chair sets, and lighting to make your outdoor celebration truly memorable. Check out all we have to offer here!
View All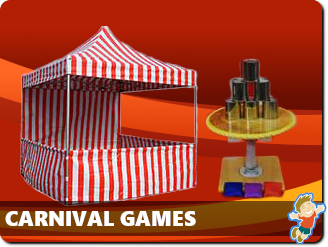 Carnival Game Rentals
Add fun and excitement for all ages when you plan for carnival games at your next event. These simple skill games will have all your guests engaged and having fun. Rent one or rent them all and create your own carnival midway!
View All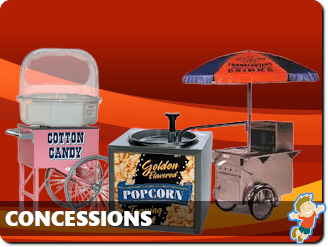 Concessions
What's a party without a Popcorn, Snow Cone or a Cotton Candy Machine? Our commercial grade concession Machines will add sweets to your party event while giving kids the added energy boost they need to have fun on our Bounce House Units!
View All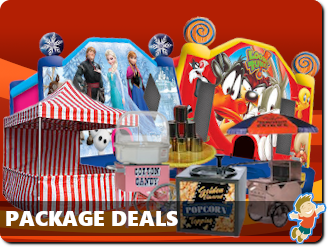 Package Deals
Let's face it, everybody wants a good deal and party rentals are no exception. Party Rentals are Us has the experience and the resourses to provide you with the best party package deals on Long Island. See our complete selection of super deals.
View All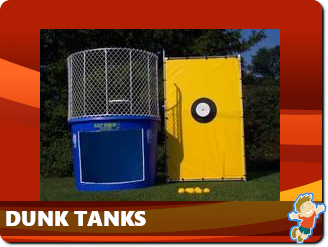 Dunk Tank
Dunk your friend or just about anybody you like. Our dunk tanks are always a hit in hot summer days. Everybody gets pumped up to go in. Dunk tanks come with 3 balls and a target. You have to throw the ball at it to dunk the person into the water.
View All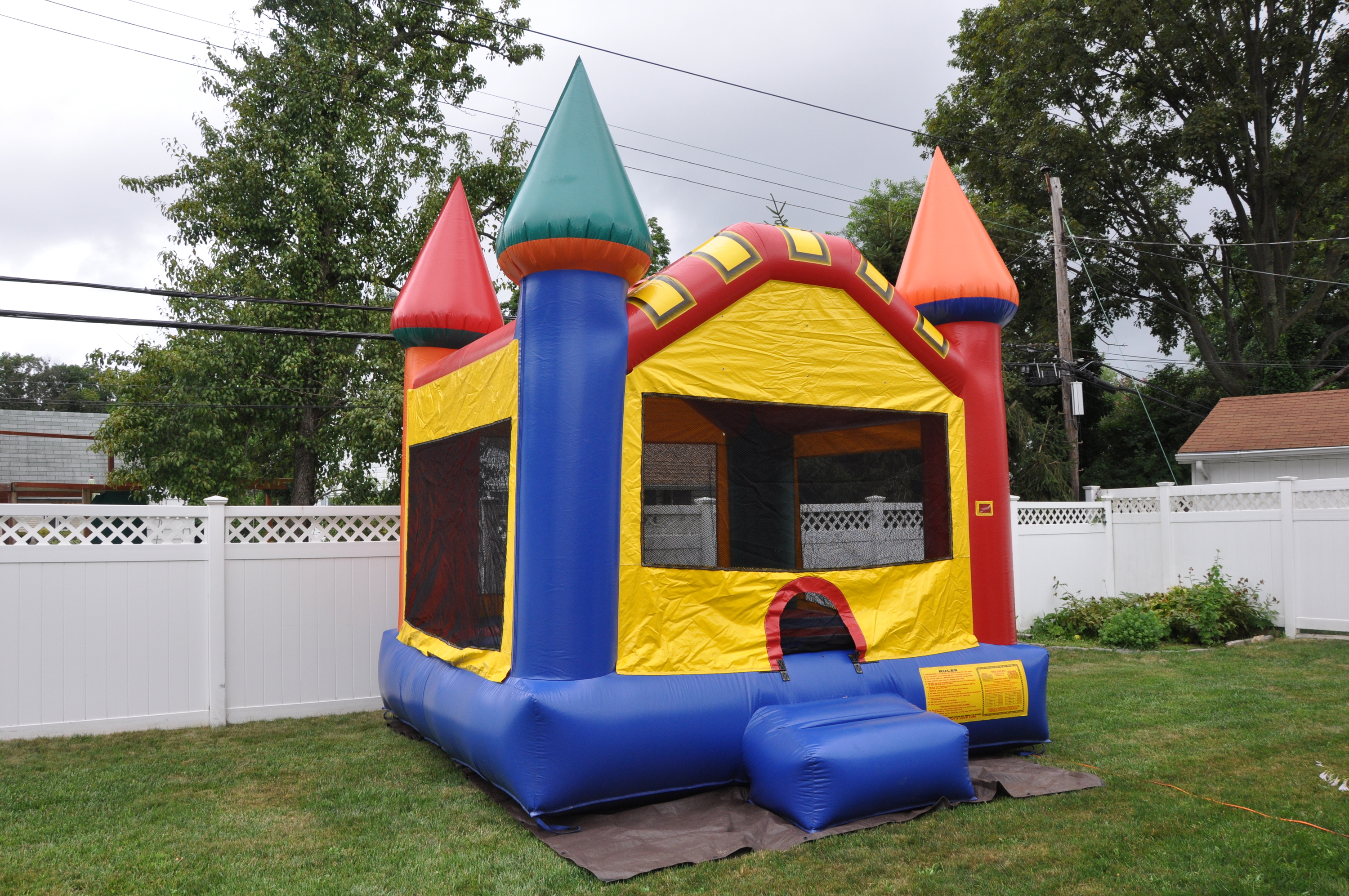 Bounce Houses
Bounce Houses come in many different shape, sizes and themes, We are very excited to tell you that we have a large selection of Bounce House rentals in Huntington, watch your little princess face when she sees our Disney Princess bounce house or if she loves Anna and Elsa we also have the
Disney Frozen
. For the boys in the house we also have fun and excited Bounce House rentals for them, if they're into cars we have the Speed Zone, Monster Trucks, or if they like pirates we have the Pirate one. Huntington Bounce House Rentals also have the classic theme Inflatable Bounce houses, for example we have the classic castle, tropical or palm Trees, and Carousel.
View All Bounce Houses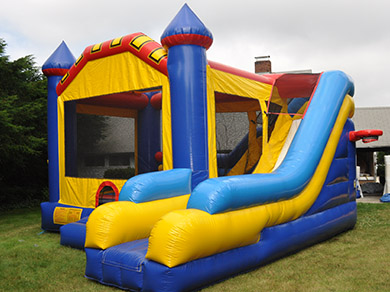 Combo Bounce Houses
Bounce House Combos
are a combination of a Bounce House and a slide in the same unit, you get to enjoy both of both worlds, the fun of jumping around and also a excitement of sliding down a Inflatable Slide. Combo Bounce Houses also come in many different sizes and themes, We at Party Rentals R Us in Huntington NY have the latest and largest selection of Combo Bounce House Rental. We have the beautiful
Unicorn Bounce House Combos
rentals for those unicorn fans in the house or we also have a beautiful and sparkly Unicorn. For the boys we have
Pirate Ship Bounce House Combos
, Sports, or for the other themes we also have the classic Castle, or the Jungle , and many more.
View All Combos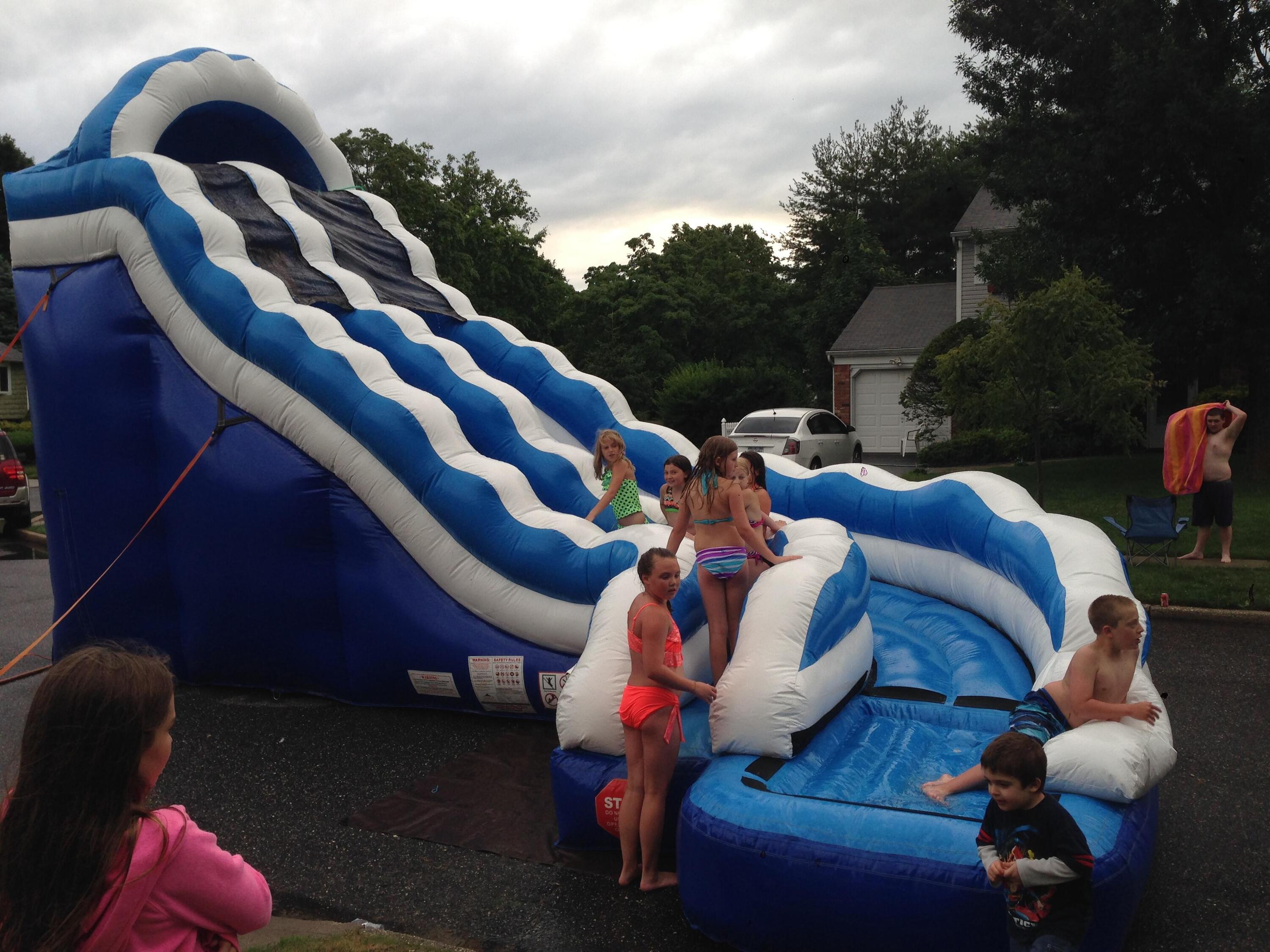 Water Slides

Water Slides are america's number one choice when it comes to have fun either at a backyard party or a large corporate event. Water Slides in Huntington come in different themes and heights, staring at 16 feet and going as tall as 22 feet high. the taller the Inflatable Water Slide the more fun it is. for those that dare to slide down our tallest Water Slide, we have the Giant Tropical Slide with Slip and Slide, this giant slide is 22 feet tall and 60 feet long. But if your looking to have fun with a Water Slide Rental but are looking for something a little smaller for the Little ones, we have the Rainbow Water slide or the 16 Feet Arch Water Slide. If you would like to go with something in the middle we have the the Toxic slide or the T-Rex, this two slides are show stoppers and we be the center piece of your event.


View All Water Slides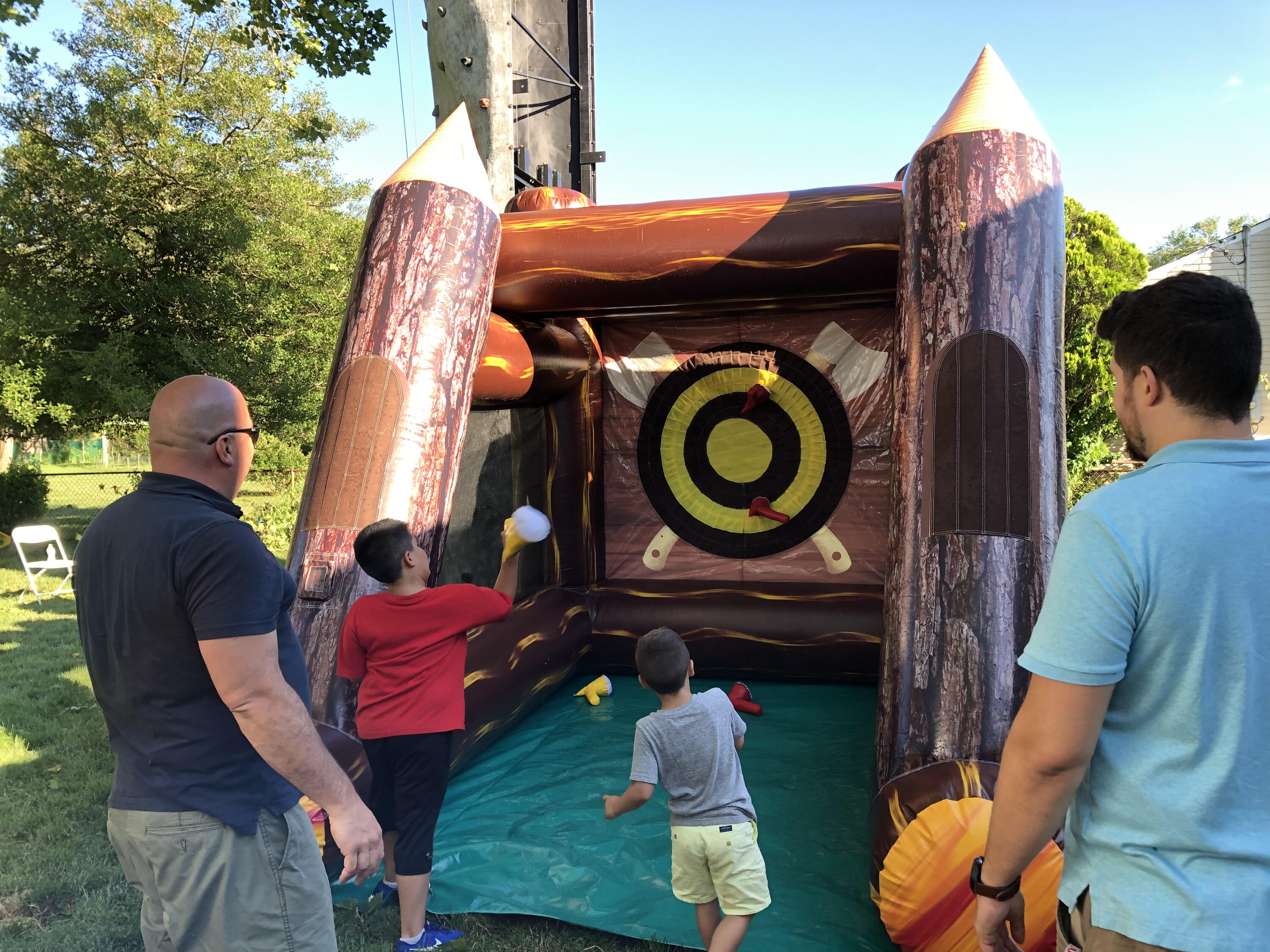 Interactive Games
Interactive games are by far the most exciting games we have, most of these games can be used by small children, teenagers or adults alike. We have the worlds famous
Toxic Meltdown
, an eight player game where the participants have to avoid being hit or taken down by the giant spinning booms, participants have to duck the upper boom and jump the lower boom, the speed of the boom can be adjusted depending on the skills of the participants. We also have the Mobil Rock Climbing Wall, this is a challenging wall where participants have to climb all the way to the top and hit the horn to win. We also have fun little game like the Giant Connect Four, Basketball All Star Game, and Axe Throwing Game just to name a few.
View All Interactives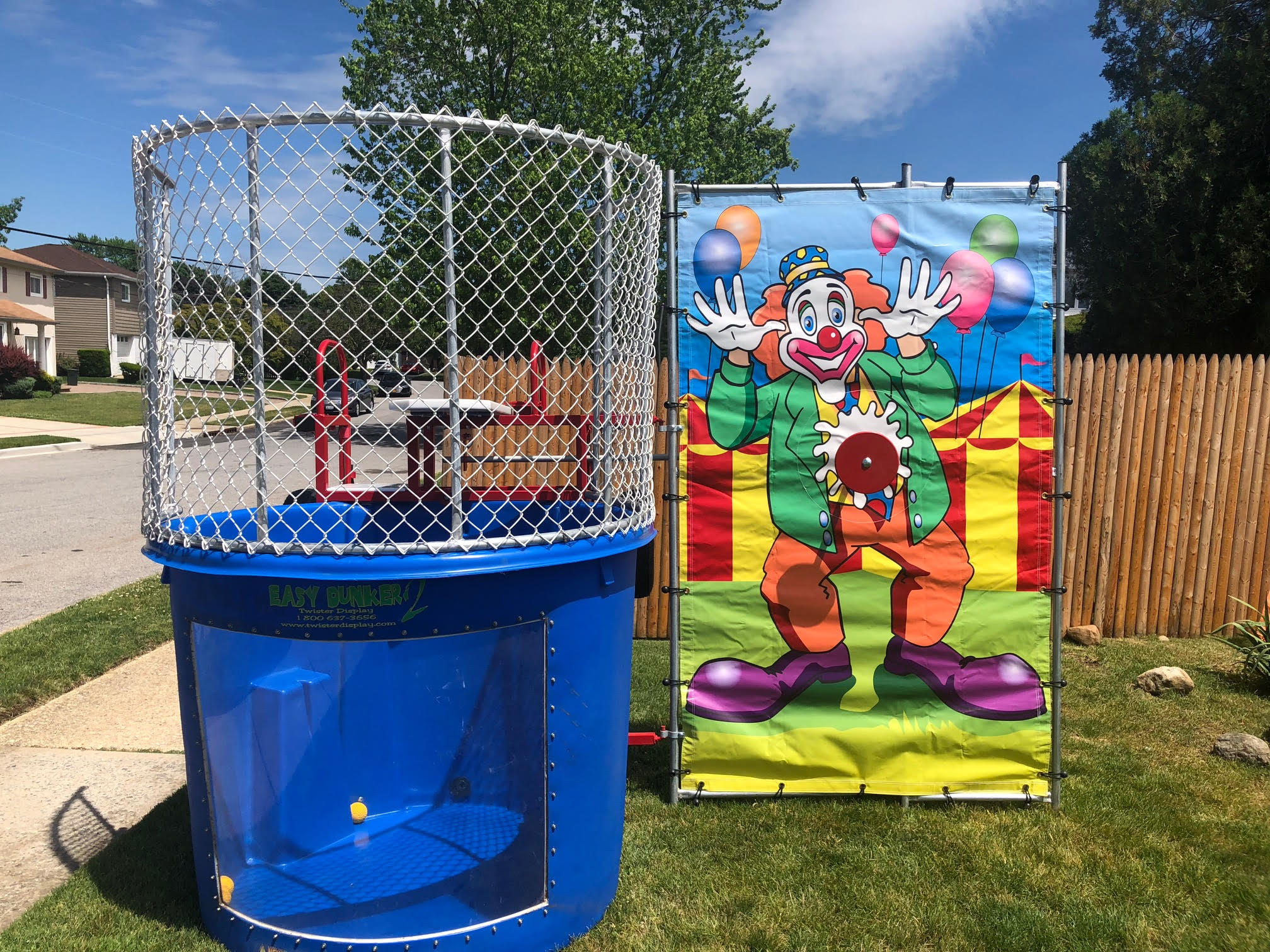 Dunk Tanks

Dunk Tanks are a lot of fun, they are basically a big bucket filled with water where a participant seat patiently on top of the bucket waiting to be dunked by an other participant who throws a ball to a target, once the target is hit the person on seating on top of the water falls in the bucket, the Dunk Tank Rental have a large clear window where you can see the person in the water.


View All Dunk Tanks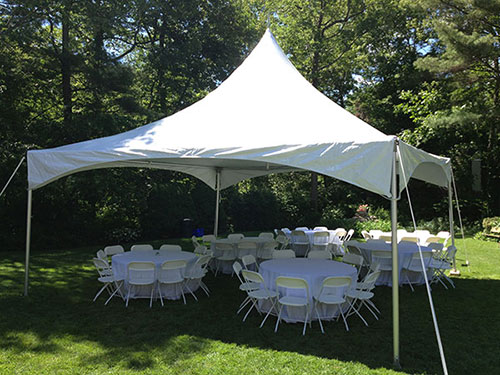 Tents, Tables and Chairs

Tents, Tables, and Chairs, we have the most elegant tents in the industry, When it comes to tents, trust the experts in the Huntington Tent Rental from Party Rentals R Us. we have beautiful high peak tents, where you can accommodate tables and chairs for any type of occasion. we Offer packages where you can save some money on the rental, we have packages starting for 40 Guests, 60, and 100 guests just to name a few.


View All Tent Tables Chairs
Public Parks and Delivery information for Huntington.

In Huntington NY we have a couple of public parks, please contact the parks directly to see if they allow inflatables or or party equipment in their property, some parks have very strict regulations when it comes to rentals companies. If the park of your choice allows us to set up our equipment at their park, they are probably going to ask you to summit an insurance certificate, that is not a problem we are fully insured and can provide you with a certificate to summit to the park. just contact our office and we'll be more than happy to provide you with a certificate of insurance for your event at your park of choice. Some of the parks in Huntington are
Heckscher Park
,
Fair meadow Park
and
Manor Field Park
.
Party Rentals R us likes to help the local community and is offering free
delivery
and set up for all Huntington Bounce House Rentals and Party Rentals. We make the whole process as hazel free as possible, from the moment you call to the moment we come to pick the equipment up, with Party Rentals R Us, you don't have to worry about picking up all the equipment and then set it up at your location , we will deliver early with cleaned equipment and we will set it all up for you and then after your event is all done we'll come back to pick and clean everything for you. All our staff is professionally trained before they go out to setup our equipment. We just ask for you to have a clear path for our staff to access the set up area, and also to clean the set up area of any doggy waste or branches, this will make the whole process a lot faster.
Bad Weather Cancellation Policy
Party Rentals R Us has the best cancellation policy in Long island, ONLY because of rain, you can cancel up to 24 hours in advance and get 100% of your deposit back. For any other cancellation call us 24 hours in advance and we will issue you a rain check for the deposit amount (remember the deposit is 20% of your rental total). This raincheck will be good for up to a year. If you wish to cancel but forget to call us before and we show up at your location with the equipment your are fully responsible for the reminder of the balance in that invoice. Any other questions please visit our
Frequently Asked Questions
page.
Party Rentals R Us not only offers free delivery and set up for Huntington Bounce House rentals and Party rentals but we are also offering a Free
Cotton Candy Machine
Rental (while supplies last) the rental of the machine a $100 value is free, all you have to get from us is the supplies which are only $29.99 and it's good for 40 servings. Thank you for visiting our website and please give us the opportunity to serve you on all your event needs, we are sure you'll be extremely happy and will use us for years to come just like many other Long Islander, Please check our
reviews
online.
See Our latest Feature Items
Frequently Asked Questions