Bounce House Rentals Long Island
Long Island's leading Inflatable bounce house rentals long Island, long island party rentals, and events company!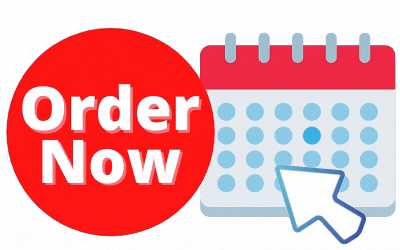 Easy 24/7 Online Booking
The Reservation Process is Super Simple:
1. Select the date of your event or party.
2. Select the rental item(s) you're interested in.
3. Input your information, as well as where the event will be held.
4. Pay a small deposit of $15 or pay in full.
Take advance of our easy online booking system, book at your convenience 24 hour a day, see pricing and availability. Its simple just search for the equipment your looking for, add it to your cart, pick date and time, and then just go through the check out process. It's that simple! At check out we're going to need all of your event information, and a 20% non-refundable deposit. But don't worry we have the best cancelation policy in Long Island. (see our cancelation policy). Book with confidence we have the best weather cancelaton policy on long Island, call us 24 hrs. prior to your event and receive full refund of your deposit (nothing to loose, if the weather does't cooperate)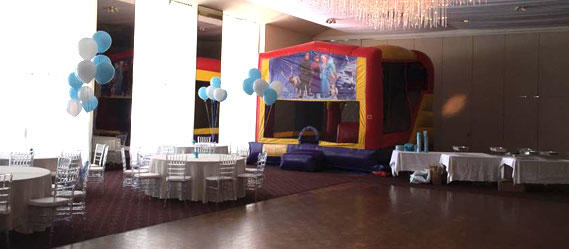 Corporate Events
Planning all the details for a large company event can be a big job. Party Rentals R Us can make that as simple as one phone call. Use the link below to get details on great corpoorate event packages.
Get Details Now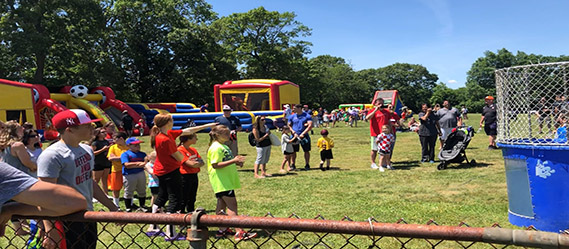 Schools & Churches
Our local schools and churches are important to our whole community, that's why Party Rentals R Us has created special high value carnival packages so you get all the fun at a price that meets your budget.
Get Details Now
Bounce House Rentals Long Island is a great addition to any party. We make it easier for the party planner to add more fun to the party and this will ensure that your guests have fun! Our Bounce House Rentals Long Island come in a wide number of designs to choose from. If you don't find a Bounce House Rentals Long Island that will work for you, let us know. We also offer combination rentals which are Bounce House Rentals Long Island and dry slide rentals linked up. This can be loads of fun and keeps the lines moving along when there are larger crowds. Bounce House Rentals Long Island arrive on location before your guests arrive. We take the time to set everything up for you and inspect everything to ensure our clients will have nothing but a good time. Should, for whatever reason, something go wrong, remember we are only a phone call away. We are a professional party rental company and will treat our clients as such. We will answer the phone when called and call back when needed. Our employees are well trained in the setup and tear down of each unit as this can be a bit tricky. But, our guys are ready for the job. Once the units are all torn down they will load them up and bring them back to the warehouse for sanitation and storage. Take a look at our reviews on Google. If you are looking to have a party that everyone will be excited to come to, then you need to look at Bounce House Rentals Long Island. It is important that your party has some form of entertainment. While some like to have a few games and prizes others want over the top with waterslides, balloons, carnival rides, and more. We love to bring the wow factor to parties with our amazing Bounce House Rentals Long Island. Are you in charge of a fundraiser? Most people think of fundraisers and they think of overpriced knick-knacks. However, fundraisers can also be a lot of fun. While we are not talking about being paid to read so many words, we are talking about inflatable carnivals. People will be happy to support your fundraiser. Guests will invite friends along and you can see how this quickly can get to be a large and fun party. When doing a fundraiser carnival there is very little work that you have to do. We Follow all ATMs protocols. We are fully licensed and we are insured by the Cossio Insurance Agency. In fact, we deliver, pick up, clean and set up. All you have to do is pick a date. The date of the party should be a date that there aren't other things going on in the local schools. Scout out the date to be sure that you are not coinciding with something big. That way you won't be sharing the data with others and fighting for your crowd. Once you have a good date, you will need to decide how to advertise. This is usually done via social media these days. You could also advertise at the local schools, churches, and other community areas. Getting the word out isn't that hard, you simply need to work on spreading the word and the date. Start an event online that will remind people of the date and that is coming up so they don't forget. Next, find some volunteers that can assist you with your inflatable party idea and decide how you are going to collect the money. It is that simple. People will pour in to participate in the event and happily give you money. You can add concession rentals Long Island to the Bounce House Rentals Long Island to increase your profits too.
CALL US TODAY TO GET A FREE NO OBLIGATION QUOTE FOR YOUR NEXT PARTY OR EVENT! (516) 448-0323
Bounce House Rentals in Long Island NY
Bounce house rentals in Long Island is the best way to get the kids out and have fun in the safety of your home, we have a larger selection of bounce houses to choose from that will fit all your needs. Make your princess or little king full of excitement by renting our Bounce house or by renting our big water slide. Spice up your next fiesta with our elegant bounce house rentals in Long Island. We have our Mermaid Combo Bounce House or our Giant Tropical Slide that includes so many fun options to keep the kids busy. Our bounce house includes not only a bounce and slide area to keep the kids entertained but also includes an awesome waterslide and a climb and slide area. If you're looking for the most for your money then our bounce house is the best way to energize your next party rental in Long Island. All of our bounce house rentals are great for little kids and big kids. Party Rental R Us is proud to offer the safest bounce house rentals for your new little jumpers. We take pride in ensuring that all of our Small or big bounce house rentals in Long Island are safe. We follow ASTM standards to keep your kids safe while allowing them to have a full day of fun outside. Check out our awesome princess tiara bounce house or the Jurassic combo. These bounce house and slide rentals are perfect for the little kids because they offer a big and bounce area with an easy to climb and slide area. book online today and Party Rental R Us can't wait to see you soon.
Professional Bounce House Long Island Company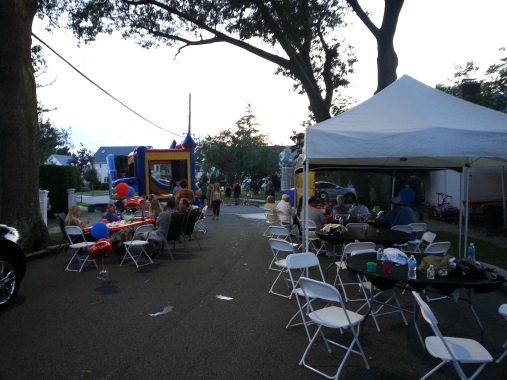 When it comes to Bounce House Long Island, We Rent Fun has you covered with an amazing selection that will blow your mind. We also are licensed and insured with great attention to detail. Our company has been in business for many years and is always expanding and growing to offer a new Bounce House Long Island selection. We take partying seriously and party literally every day of the week. If you are looking for a great time, look no further, we have you covered. Our rentals are state inspected when needed to offer our clients peace of mind that everything is safe and secure. We are not just a guy with a truck and a bounce house. We are a professional party rental company that is looking to serve the Long Island Area. Many of our Bounce House Long Island can be combined to form a much larger party setting. We have worked with communities, schools, churches, and individuals. Our Bounce House Long Island is great for large events as well as having a little backyard fun. Today, let's get your party started off in the right direction with our Bounce House Long Island. Bounce House Rentals Long Island does come in all different types. However, we believe that we have something that will please everyone. If you are looking for entertainment for your next party, you have come to the right place. From bounce houses to water slides, we even offer some unique fun rentals, such as the mechanical bull rental and a rock wall rental. Yes, we said we have something for everyone, and we meant it. There are big rentals as well as smaller units that would fit inside a gym. We have you covered whatever type of entertainment you are looking for in the Long Island area. Our rentals arrive on time and ready to go. Everything is delivered to you and set up. We take the time to inspect everything to ensure that it is in good working order before we leave. If there are any instructions, we will give those to you, such as for our concession rentals, which, by the way, are a perfect addition to any of our larger rental units. Kids will get hungry and need a snack to keep up their energy to continue to have a great time. Everyone loves popcorn and snow cones, and they are the perfect addition to any party.
Excellent Selection of Bounce House Long Island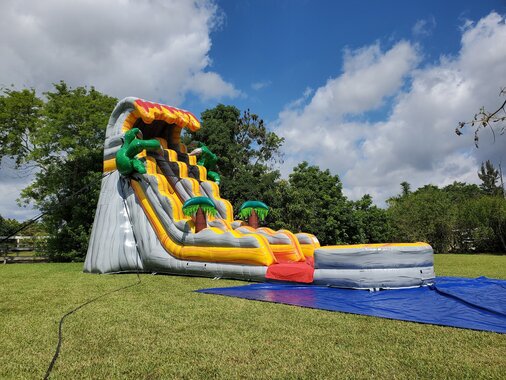 Bounce House Long Island comes in a variety of sizes and shapes to meet the needs of our clients. We understand that you might not have the room in your backyard for some of our units, which is why we offer smaller options. While many of us like to think bigger is better, a smaller unit only makes sense in some cases. Give your child a memory that will last a lifetime by them walking out back to find their very own water slide for the day. Water slide rentals are one of our more popular Bounce House Long Island and are perfect for both kids and adults. In fact, we have many units that adults can have fun on and enjoy. We have had college students rent out our Bounce House Long Island for a good time. While many people think of Bounce House Long Island as simply tent, table, and chair rentals, we have taken that one step further and offer a wide selection of entertainment to add to any party. Your guests will be talking about your party for weeks, and everyone will want to be invited. Bounce House Long Island is a perfect way to entertain a large number of children for hours at a time without having to do much at all. Give your child something to remember, give them a gift of experience instead of a pile of toys. They will enjoy the day and remember it for a lifetime. Our Bounce House Long Island is the perfect way to throw a party that people will remember and want to attend. We offer a huge selection that is all delivered right to the party and ready to go before the first guest arrives. If you are stuck on what to get for your party, ask! We have been partying for many years and know what is popular. We are always very happy to assist our customers in finding the perfect party rental for their parties. Our team of experts will take the time to ask some questions to narrow down exactly what will Wow your guests.
See our latest featured products for 2021
Area that we serve!
North Nassau Zone
Albertson, Great Neck, Old Westbury, Bayville, Greenvale, Oyster Bay, Bellerose, Hicksville, Plainview, Carle Place, Jericho, Port Washington, East Norwich, Lake Success, Roslyn, Floral Park, Locust Valley, Rosyln Heights, Garden City, Manhasset, Sea Cliff, Glen Cove, Mill Neck, Syosset, Glen Head, Mineola, Westbury, Glen Oaks, New Hyde Park, Williston Park, Glenwood Landing, North Shore Towers, Woodbury
South Nassau Zone
Atlantic Beach, Hempstead, North Massapequa, Baldwin, Hewlett, Oceanside, Bellmore, Old Bethpage, Bethpage, Rockville Centre, East Meadow, Levittown, Roosevelt, East Rockaway, Long Beach, Seaford, Lynbrook, Uniondale, Farmingdale, Massapequa, Wantagh, Franklin Square, Massapequa Park, West Hempstead, Freeport, Merrick, Woodmere
Eastern Suffolk Zone
Holtsville, Port Jefferson, Bayport, Lake Grove, Port Jefferson Station, Bellport, Lake Ronkonkoma, Ridge, Blue Point, Manorville, Riverhead, Brookhaven, Mastic, Rocky Point, Calverton, Mastic Beach, Sayville, Center Moriches, Medford, Selden, Centerreach, Middle Island, Shirley, Coram, Miller Place, Shoreham, East Moriches, Moriches, Sound Beach, East Patchogue, Mount Sinai, Wading River Eastport, North Patchogue, West Sayville, Farmingville, Patchogue, Yaphank, Holbrook
Western Suffolk Zone
Amityville, Babylon, Bay Shore, Bohemia, Brentwood, Brightwaters, Central Islip, Centerport, Cold Spring Harbor, Commack, Copiague, Deer Park, Dix Hills, East Islip, East Northport, Great River, Greenlawn, Hauppauge, Huntington, Huntington Station, Islandia, Islip, Islip Terrace, Kings Park, Lindenhurst, Melville, Nesconset, North Babylon, Northport, Oakdale, Ronkonkoma, Saint James, Setauket, Smithtown, Stony Brook, West Babylon, West Islip, Wheatley Heights