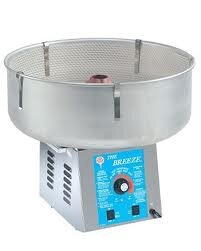 Cotton Candy Machines
Cotton Candy is always everyones favorite, and a great addition to any party or event. This is a commercial grade cotton candy machine rental is capable of makeing large amounts of cotton candy and is to be use on a table top, it doesnt come with the cart. If you would like to rent a cotton candy machine with cart Cick Here!
Our Cotton Candy machine rentals come with everything you need for 50 servivings. If 50 servings is not enogh make sure to add more servings by visiting our concession supplies pages.