Foam Mahine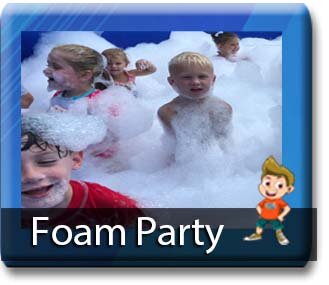 Available Booking Options
Regular/All Day
(12pm-8pm)

$349.99


Overnight

$419.99

Weekend Special
(Sat 12pm-Sun 8pm)

$489.99
Monitors: Optional
Outlets: 1
Foam Party!
Ready to throw the best party ever, here is a great idea. Foam parties are a lot of fun for little kids, teenagers and adult alike. our foam machine rental comes with everything you need for a two hour party, if you need more time you can add more time by odering more time Here. The foam machine is great addition to any of our water slides, by a pool side or just stand along. Our foam sulution is not just soupy water, is a special formula that is 90% air, made with non-toxic, biodegradable ingredients, allergy-free and is environmentally friendly,
Foam Machine Rental Long Island
Looking for a Foam Machine Rental Long Island? Maybe you are looking for a little fun for your next party and have stumbled onto We Rent Fun. That's right, we rent all kinds of fun things for parties of all sizes. We have a Foam Machine Rental Long Island but we also offer water slide rentals, bounce house rentals, and extreme rentals. These rentals can be laser tag rentals or a rock wall for climbing. We wanted to offer something for everyone, and we think we have achieved it.
Our foam machine rental can be rented on its own or combined with our other rentals. Many people like to combine the foam with say a water slide or bounce house. While we do ask that you never put soap or other substances on our bounce house rentals and water slide rentals, we do allow our foam machine. The substance in the foam machine is formulated to work well with our bounce house rentals. If you are looking for added fun to your water slide or bounce house rental, we totally recommend a Foam Machine Rental Long Island. Call today.
Long Island Party Rentals
If you are throwing a fundraiser or maybe a community event, we have you covered. We work with people that are having backyard events to those that are looking to throw a huge party. We have combined our rentals to make an inflatable carnival complete with concessions.
Don't try to move any of our rentals once we have left. These pieces of equipment are heavy and very expensive. Avoid injury by not moving the units. Call us if there is an issue. We are happy to determine a solution for the problem at hand.
Whether it is a Foam Machine Rental Long Island or any of our other party rentals, we deliver. That's right, we bring your party rentals right to the party. We will pick up everything once the party is over. When back to the office, we will clean and inspect the units to ensure they are ready for the next party.
Long Island Foam Machine Rental
Our party rental business has been in business for many years now. Because of this, our operation is pretty streamlined. This means that we can take on many parties at one time and deliver on time. When you have been parting as long as we have, you know what needs to get done for everyone to have fun. We will bring the fun to your party, you simply need to find the guests.
If you are looking to entertain your guests and aren't quite sure what would be best, call. We have partied for many years and know what is popular among different age groups and are happy to help. Call now.
Getting a foam machine rental in Long Island has never been easier. Pick up the phone, let us know the date and time. Your rental will be delivered before the party begins. It is that simple. You are working with the experts in parting. Call today.
Recently
Viewed