Gamer Combo Bounce House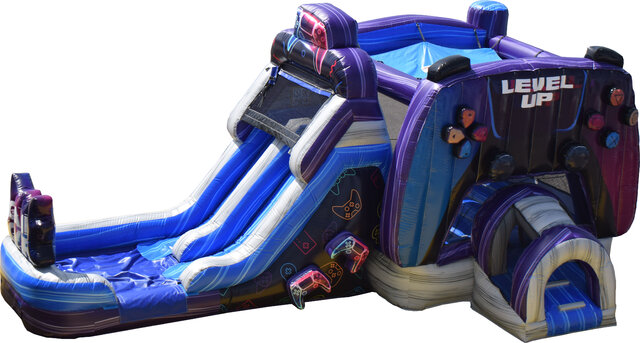 Available Booking Options
Regular/All Day
(12pm-8pm)

$399.99


Overnight

$479.99

Weekend Special
(Sat 12pm-Sun 8pm)

$559.99
Actual Size: 28' L X 16' W X 13' H
Outlets: 1
Description
Introducing the Gamer Combo Bounce House, the ultimate inflatable gaming experience for your next event! This incredible bounce house combines the thrill of bouncing with the excitement of video gaming, creating an unforgettable entertainment option for gamers of all ages.
Designed with vibrant and eye-catching graphics, the Gamer Combo Bounce House features popular gaming characters and elements that will instantly captivate the attention of your guests. Whether you're hosting a birthday party, a corporate event, or a community gathering, this bounce house will add a unique and interactive element to your festivities.
Measuring 28 feet in length, 16 feet in width, and 13 feet in height, the Gamer Combo Bounce House offers ample space for multiple players to jump, bounce, and compete against each other. The spacious interior allows for unrestricted movement, ensuring that everyone can fully enjoy the gaming experience.
Equipped with a large bouncing area, participants can unleash their energy and have a blast while engaging in friendly competitions. The bounce house also features built-in basketball hoops, adding an additional element of excitement and encouraging friendly competition among players.
Safety is our top priority, and the Gamer Combo Bounce House is no exception. It is constructed with high-quality, durable materials that are designed to withstand vigorous use. Additionally, the bounce house is equipped with safety netting on all sides, providing a secure environment for participants to enjoy their gaming adventures.
Setting up the Gamer Combo Bounce House is a breeze, thanks to its user-friendly design. Our professional team will handle the setup and take-down process, ensuring a hassle-free experience for you. All you need to do is sit back, relax, and watch as your guests immerse themselves in a world of gaming fun.
Don't miss out on the chance to elevate your event to the next level with the Gamer Combo Bounce House. Book now and let the gaming excitement begin!