Laser Tag Rental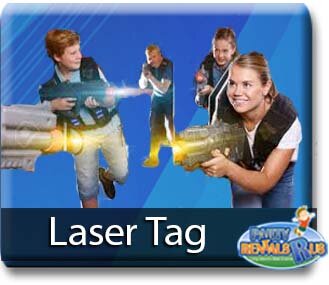 Available Booking Options
Regular/All Day
(12pm-8pm)

$399.99


Overnight

$479.99

Weekend Special
(Sat 12pm-Sun 8pm)

$559.99
Description
The Ultimate Laser Tag Experience at Home!
Bring home the ultimate laser tag experience in Long Island! Why go to an indoor facility limited to 45 minutes, when you can have hours of endless outdoors fun on your own backyard. This laser tag rental includes 10 laser taggers and 8 professional inflatable bunkers so player can hide behind. We do the set up for you and it only takes 20 minutes, all you have to do is grab the kids and start having fun tagging each other, this rental is for the whole day so you are not limited to a time window.
Long Range Sensor - An infrared receiver tracks and registers hits with a max strike distance of 132 feet or 40 meters. These Laser Blasters light up and vibrate while shooting to allow you to immerse yourself in the action! With a Child Safety Infrared Signal Emission that is less than 1mW, this toy conforms to ASTM F963-16 and is a certified class 1 laser toy product and safe for children of all ages.
Laser Tag long island
Laser tag rental Long Island is a wonderful addition to any backyard event. These have been requested for community, church, and school events as well. Laser tag rental Long Island is great for team building as well as blowing off a little steam. Get the kids out from behind the screens and back to have good old fashion fun with Laser Tag long island.
While we offer laser tag rental in Long Island we also offer many other various party rental options. Take the time to look around at our vast selection of inflatable rentals as well as Laser Tag long island. We work with clients big and small to put on the very best Long Island party possible. We offer waterslide rentals, bounce house Long Island rentals, and many other party rental options. Simply put we are the party experts that offer all kinds of different events and options for your next party.
Professional party rental company long island
As a professional party rental company, we believe in getting it right the first time. All of our party rentals will be delivered right to the party before guests arrive. We will set everything up, including the Laser Tag long island. Let's get your party off to a great start with some party rentals today! We are basically an inflatable carnival and offer all kinds of fun attractions that can be used to entertain.
Our party rentals, including our laser tag Long Island rental, are great for fundraisers as well. Think about it, nobody wants to sell overpriced trinkets to their friends and family. However, most people can get on board with coming to a carnival and having a great time with their kids and grandkids. Carnivals make the perfect fundraisers and don't forget the food! People love popcorn and the smell is irresistible. This is a lovely way for you to make more at your fundraiser than just charging for people to come to the carnival.
We believe Safety is important.
Safety is our number one concern. That is why we disinfect everything before we place it in storage. This means that our clients will get clean and ready-to-go rental each and every time. Our laser tag rental will be diligently cleaned to ensure the safety of your guests. If there is a spill on any of our rentals, we do ask that you simply wipe it down with a rag. We don't want you to use any detergents on the rentals as some can make alter the colors and in the end, will ruin it. While we understand that things happen when in doubt, give us a quick call and we will be happy to discuss options for you. Also, keep silly string away for the rentals as this tends to stain the rentals and can ruin them.